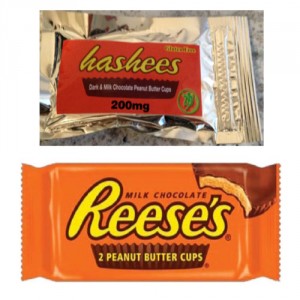 In June, The Ollila Law Group assisted The Hershey Company and Hershey Chocolate & Confectionery Corporation with a trademark infringement lawsuit against TintureBelle LLC and TinctureBelle Marijuanka LLC, companies located in Colorado Springs and Pueblo West, Colorado. TinctureBelle, who makes marijuana infused edibles for medical dispensaries, caught Hershey's attention when TinctureBelle started packaging their products in wrappers that looked extremely similar to Hershey's candy products.
Although executives at TinctureBelle denied these claims, Hershey was worried that TinctureBelle's products packaged in such confusing packaging would be associated with Hershey and create a safety risk to consumers, especially children, who may unknowingly eat the candy thinking it was ordinary candy.
Additionally, Hershey was concerned that TinctureBelle's products could potentially dilute the brand name's recognition. Since June, the lawsuit has been settled, and TinctureBelle agreed to recall and destroy all products that were in question and to refrain from using the same or confusingly similar packaging on its medical marijuana products in the future.
Read the article in The Denver Post.